GLBrain Applications
GLBrain offers tools and applications for private users, businesses, organizations and all kinds of communities. A new way of internet with content, profiles, e-commerce and communication functions made to help its users to improve their life, their business and this world.
Applications for Private Users and Small Businesses
A free standard user profile offers all basic functions like creation of user profile, creating, reading and sharing content, and all basic community management functions like adding friends or following authors of GLWeb content. A search engine offers easy searching and unique browsing of content, users, and companies and online offers. By upgrading to a professional profile the layout can be enhanced, additional textboxes in different languages for presentation can be added as well as links or updates, plus a very modern photo and video gallery. Enhanced community management functions allow creation of lists to cluster different types of online contacts. A professional profile also includes the creation of an online shop and publishing one offer on any of the 4 levels of GLMall. This is made especially for private users, who want to publish their business or service as such or use the Job or Real Estate market places.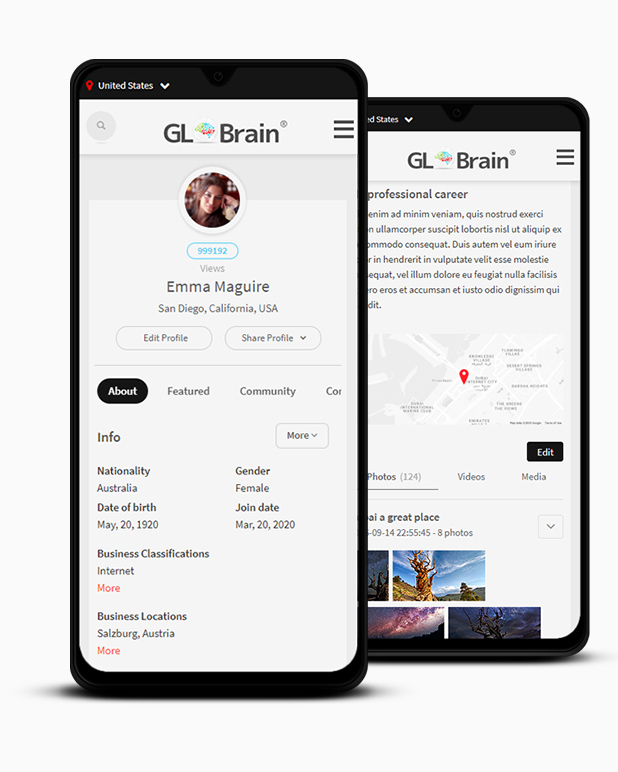 Applications for Businesses
GLMall
The first of its kind complete online mall and marketplace for online shops offering their products, services, jobs and real estate on four virtual e commerce floors. Small businesses and regional direct distributors may use the online shop offered GLMall, large businesses may link to their already existing online shop or use external software offered and integrated by GLMall. A professional profile on GLBrain includes the own online shop and one offer to be published at a time which may be upgraded to larger offering packages. GLMall will allow all who want to improve their business to present their offers in a very focused and efficient way by renting out online shop floor and most important to present and promote their offers on an integrated marketplace.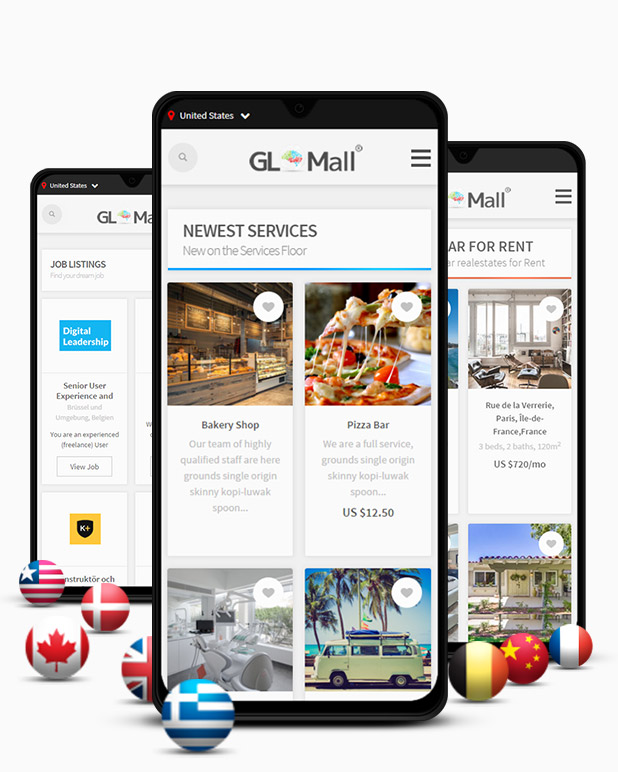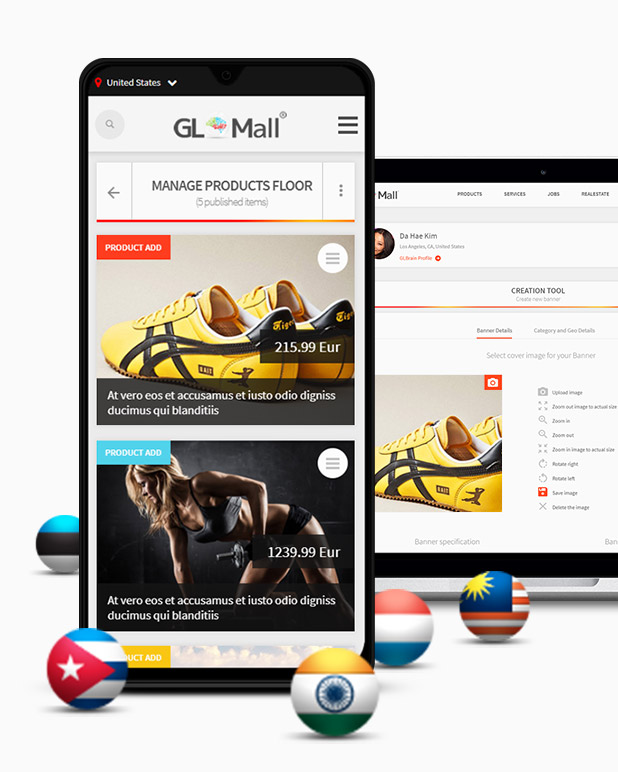 Presentation and Marketing
GLMall offers unique features for easy creation and administration of offers with a special feature of geo selection, allowing to define the geographical area the seller wants to address as well as the definition of transaction options. Jobs and real estate allow offerings and requests from both sides and offer a matching function showing real time matches between those who offer and those who search.
Businesses may use all features for professional community management and marketing offered by GLBrain and may create content to show on their profile. This content may be related to their business and they can create advertising banners to be shown aside of all content for a specific category in the selected geographic area. All content can be shared to all other social networks and shall carry the advertising banner along. The click on the banner will lead to the selected page which may be the product in GLMall or any other online shop or the online shop itself.
Applications for Organizations and Communities
All kinds of online organizations and communities may use the community management functions of GLBrain to manage and to communicate with their online community. All content and profiles can be shared inside the network, by email or direct link to other social networks. This may range from NGOs to all kinds of so called change of behavior movements.
Professional Profile
A Professional Profile can be used to show organization or community specific information and links to other content such as the organization's website, GLMall profile or any other related information.

Besides managing the users content, the profile page is also used by the owner to manage his community of Friends and followers. NGO,s may use it to link up their communities of donors and recipients to run safe communication and distribution of funds. Save blockchain based solutions for direct fund distribution between donors and recipients are available on special request.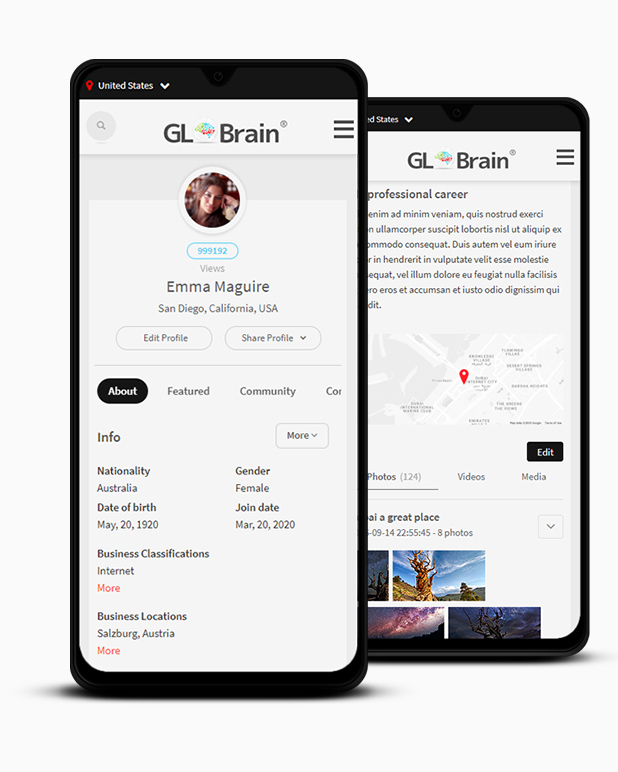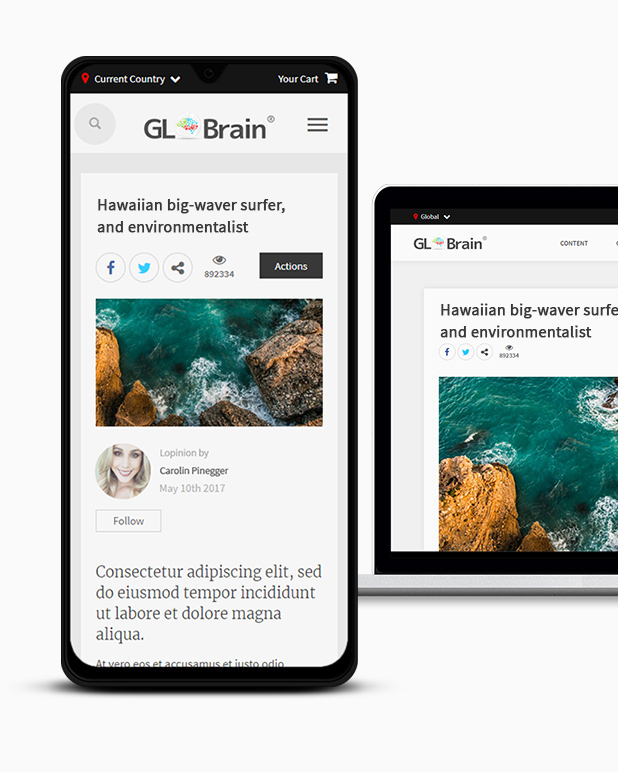 Content Creation
Content today is the main way to advertise any idea especially when it comes to organizations. Organizations can create and publish content, initiate movements and polls, so to follow their targets. All other social networks may be integrated and all can be shared there. All members of the community can follow the content and spread by sharing.
Communication
Within GLBrain online communities and organizations can create and administer a system of members and followers. Communication among the organization and its members occurs without any risk of data being used by the network or any third party and can be done on GLBrain or on GLFeed. GLBrain + allows sharing revenues of GLBrain with all its users who bring their communities to GLBrain.